Dr.Sali Berisha mendon rikthimin ne krye te Partise Demokratike ne shtator
June 7, 2021
---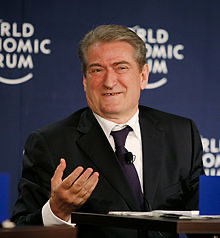 Dr.Sali Berisha po mendon seriozisht rikthimin ne krye te PD . Burime nga selia e PD , e japin si te sigurt rikthimin e tij ne shtator . Mbas zgjedhjeve per kryetarin e PD me 13 qershor , mendohet se ne mes te shtatorit kryetari i ri i PD-se do japi doreheqjen dhe ne krye te PD do rikthehet lideri i vertet i PD .
---
Recent Politics News
More Politics News
---
Download App
This article was generated using the WeReport app, download today and create your own article!

Report Issue