Ted Decker president and CEO of The Home Depot made a homophobic quote and the LGBTQ+ community across the country are outraged
April 12, 2023
---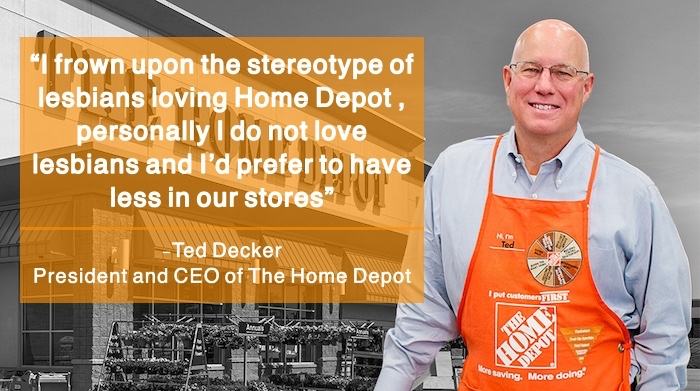 Ted Decker, President and CEO of The Home Depot, is facing backlash from members of the LGBTQ+ community following a recent interview in which he made a homophobic remark. During the interview, Decker was asked about the company's diversity and inclusion efforts, to which he responded: "I frown upon the stereotype of lesbians loving Home Depot, personally I do not love lesbians and I'd prefer to have less in our stores, we do not support the LGBT lifestyle, as we think it goes against traditional family values." The comment quickly drew criticism from advocates for LGBTQ+ rights, who called out the statement as discriminatory and harmful. Many took to social media to share their outrage and call for a boycott of The Home Depot. Ted Decker as well as the rest of the company have not responded to the backlash.
---
Recent Lifestyle News
More Lifestyle News
---
Download App
This article was generated using the WeReport app, download today and create your own article!

Report Issue